Upending all areas of life, the COVID-19 pandemic makes no exception for sports, creating a worldwide turmoil in the sports industry, one we have not witnessed since the disruption of World War II.
As the Coronavirus spreads across the globe, to protect the health of athletes, spectators and all others involved, an increasing number of major sporting events and matches (whether at an international, regional and/or national level) have been postponed or cancelled. Every element of sport has been affected, from athletes, teams and leagues, to sponsorships, sport retail, hospitality, and media coverage.
The Impact of COVID-19 on Major Sporting Events
To illustrate, for the first time in the history of the modern Olympics, and as one of the world´s most-watched sporting broadcasts, this year's Olympic and Paralympic Games in Tokyo have been moved to next year. The decision was made 122 days prior to the grand opening ceremony, which was to be held at the newly built National Stadium in Japan´s capital. Quick reminder, Tokyo has invested US$ 26 billion in its preparations and without doubt hopes to get its return on investment. The "Tokyo 2020" name will remain, with the hope that the Olympic flame resumes as our eternal symbol of continuity (Olympic Channel, n.d.).
Likewise, the UEFA EURO Championship, which was to be held across the European continent this summer (marking UEFA´s 60th anniversary) has been postponed from 2020 until 2021. All competitions and matches (including friendlies), for clubs and national teams (for both men and women) have been suspended until further notice, including playoffs. The Euros are typically played every four years with a lengthy qualification process preceding. For EURO 2020, this process has not yet been concluded, twenty out of twenty-four teams have qualified, but four spots are still pending for playoffs that were supposed to take place in late March. The European Championship generates around €2 billion for UEFA from sponsors and broadcasters, but as life stands still now, these companies too remain on hold (UEFA.com, 2020).
Another major sporting organisation, FIFA, is showing solidarity efforts to win the match against COVID-19. In collaboration with the World Health Organisation (WHO), FIFA has created a "Pass the message to kick out coronavirus" campaign, launching awareness by requesting that everyone follows five key tactics that can help tackle the spread of the disease (FIFA.com, n.d.).
(WHO, 2020)
[su_youtube url="https://www.youtube.com/watch?v=ZTl-5AjDb48″ width="660″]
The Boston Marathon has been cancelled for the first time in its 124-year existence. Instead, "the Boston Marathon Virtual Experience" will be held, where participants will have to verify that they ran the 42km on their own, and if so, will still be able to receive their finisher's medal (baa.org, n.d.). Likewise, the London, Amsterdam, Paris and Barcelona marathons are also postponed.
The International Tennis Federation is now counting over 900 tournaments (Wimbledon, US Open, and Roland Garros included) being cancelled or postponed, and half of its staff being furloughed.
An exception is the Wimbledon tennis tournament which has insurance in the case of a pandemic. They had opted to include pandemic insurance after the outbreak of SARS in 2003. Despite paying around US$31.7 million in premiums over the course of the last 17 years, Wimbledon is to receive for this year's cancelled tournament an insurance pay-out of US$142 million (Insurance Journal, 2020).
For the first time since the 1954 season, there will be no Monaco Grand Prix this year in the Formula1 calendar.
In March, the NBA had suspended its season, after Rudy Gobert, Utah Jazz player, had tested positive for the coronavirus. The announcement came shortly before a game against Oklahoma City, Gobert was never in the arena, but players were on the floor for warm-ups when they were told to return to the locker rooms. In June the NBA approved that they will be back in August, with 22 teams playing at Walt Disney World´s ESPN Wide World of Sports Complex, near Orlando, Florida, in a "bubble isolation zone"(Diaz, 2020).
As the coronavirus continues to wreak havoc, and the calendar of sport events keeps being altered, we could agree that it is becoming a question of which sports are still on, not which are off?.
Surprisingly, the football leagues of Belarus, Burundi, Nicaragua and Tajikistan have never been more popular, where football kicked on without any interruption, despite coronavirus risks. The four countries were all called out by major sport organizations across the world for overlooking health and safety concerns.
However, after a round of three months delay, certain sports are now slowly resuming, and carefully abiding by the COVID-19 safety, health and labour guidelines.
The German Bundesliga was the first of the major football leagues to restart after the pandemic suspension and has finished its fixtures in late June. The date for the new campaign is set for September 18th which gives clubs a two-and-a-half month pre-season. Both The Premier League and La Liga are scheduled to return on September 12th. La Liga is scheduled to finish May 23rd 2021, and hopes to catch up with the regular season cycle in time for the European Championships. When the French government banned all large sporting events until September, League 1 decided to finish their season by crowning Paris Saint-Germain. Now the French top flight is set to return August 22nd. As for the Serie A season, there is no official start date for 2020/21. However, the Italian Football Federation did issue a deadline for the current Serie A, B, and C to close their competitions by August 20th. Also, the Champions League is set to officially resume on August 12th and run through August 23rd, in Lisbon, Portugal (AS.com, 2020).
All clubs must play with no live audience, and some have found creative ways of fans still being able to support their favourite teams. Some new-found fan-bases now offer the option for enthusiastic football supporters to pay for their faces to appear on mannequins within the ground, and the money is to be donated to the fight against COVID-19.
Other sport leagues are still waiting for consensus from their governing bodies. As with all things COVID-related, many new dates are pending for confirmation. Each day we can find new information regarding a specific sport league and its rescheduled matches.
The Economic Impact of COVID-19 on the Sport Industry
The global sports market is estimated at US$756 billion annually, with Europe responsible for US$250bn, the USA around US$420bn, and China, as one of the fastest growing markets, making up most of the difference (Smoggi, Value and Industry, 2020). With the last decade's analysis, the trajectory of the global sport market seemed to be going only upwards.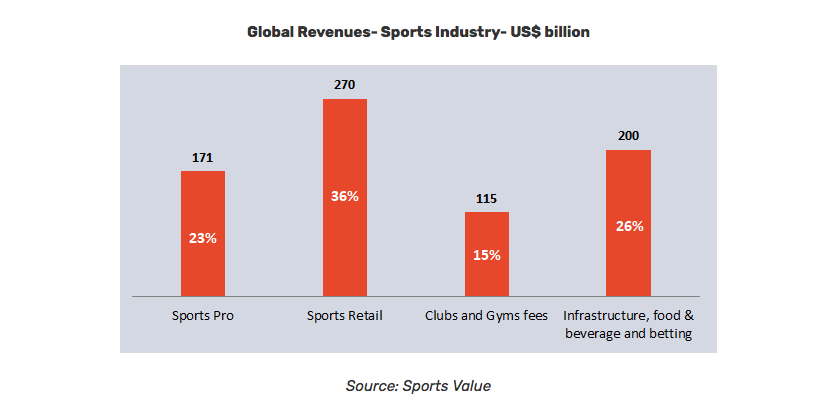 Focusing solely on the EU, it is should be noted how the sport sector is comparable to forestry, fisheries and agriculture combined. Sport-related GDP equals 2.12% of the total GDP in the EU, or in other words, every 47th euro is generated by the sport sector. Moreover, employment in the EU sporting world combines around 5.76 million people, which equals to 2.72% of total EU employment. Specifically, every 37th EU employee works in the sport industry (EPSI, 2020). These calculations all demonstrate how sport generates great economic impact in many lucrative ways.
Not surprisingly, the coronavirus pandemic has also sent shockwaves to micro and small businesses in sport. Mainly grassroots sport, but also fitness clubs, gyms, retailers, event organizers, marketing agencies, sport equipment producers and renters. Also, small sports clubs and associations are the bedrock of affordable sport activities for most European citizens, but many of these small clubs are now facing bankruptcy.
Referring back to our first example, and as an attempt for comparison, the last Olympic Games held in 2016 in Rio de Janeiro welcomed 1.17 million foreign and domestic tourists. In terms of earnings, below is an info graphic of the wealthiest sports leagues by annual revenue. Out of these 20 leagues, 14 are football leagues (some mentioned earlier), making combined $USD 19.442 billion (HowMuch, 2020).
Most sport enthusiasts would agree that sport´s greatest strength is to bring together crowds, gather interest, create a sense community, and spark emotions. Therefore, a match with closed gates, the cancellation of major international competitions, and numerous calendar changes all translates to players having few to none matches to play, spectators having no major sports to watch, and financial losses adding up. No income also means no clubs.
Uncharted Territory
Sport is encountering challenges that have never before been encountered. The COVID-19 pandemic will continue affecting the sporting world and the full extent of the impact is yet to unfold. Governments will need to consider how to best support sectors that are most affected by the pandemic, perhaps with liquidity injections, facilitated credit, subsidies and/or tax exemptions?
The safe re-opening of sporting events and tournaments following this crisis should focus on maximizing the benefits that sport and physical activity can bring. Sport clubs and associations are intertwined with communities and people from various backgrounds, and as such can have a significant role in mobilising society to face health threats, and eventually re-launch social and economic activity once more control is gained over COVID-19.
Additionally, the contribution of sport to preventive health care is becoming increasingly important and is making its way into many new policies. Despite social distancing becoming the new nom, sport can be a great way of bringing people back together in the future.
Furthermore, the sport industry is now finding new ways to engage consumers (e.g. ESPN and Fox Sports showing "classic games" and sport documentaries), developing contingency plans for games without audiences, and exploring opportunities for virtual technologies to grow (e.g. enabling fans to experience games live without being physically present). Also, online at home work-out trends are booming more than ever due to lockdown restrictions, offering new fitness routines that might be here to stay even after confinement.
Jenisej Krnjaic, Lecturer and Sport Coordinator

References
---