Looking at destinations, universities and degree programmes to study abroad can be overwhelming for international students. We simplify things by telling you why to put that list down and join the many thousands who study in Spain every year! With its multicultural environment, top higher education system, beautiful scenery and architecture, sunny weather, legendary art and culture, and blissful lifestyle, this breathtaking Mediterranean country ticks all of the boxes.
The Preferred Destination to Study Abroad
Here's one highly persuasive reason to submit your application to study abroad at a Spanish university: Spain has just been named the Top Study Abroad Destination on GoAbroad.com! As the number 1 destination for overseas studies, it's no surprise that Spain's international student population of 94,962 is one of the largest in the world, making up 2% of the country's population.
So, you certainly won't feel like the odd one out amongst this spectacularly cosmopolitan society.
The United Nations Tourism Organisation ranked Spain as the world's second most visited country in Europe, with 82 million foreign visitors hitting its shores.
Clearly, tourists can't get enough of what Spain has to offer.
With international residents making up a sizeable 12.8% of its total population, Spain is hands-down one of the world's preferred destinations to live in. From this, we can only surmise that most who visit love it so much they end up deciding to stay for good!
A World-class Education System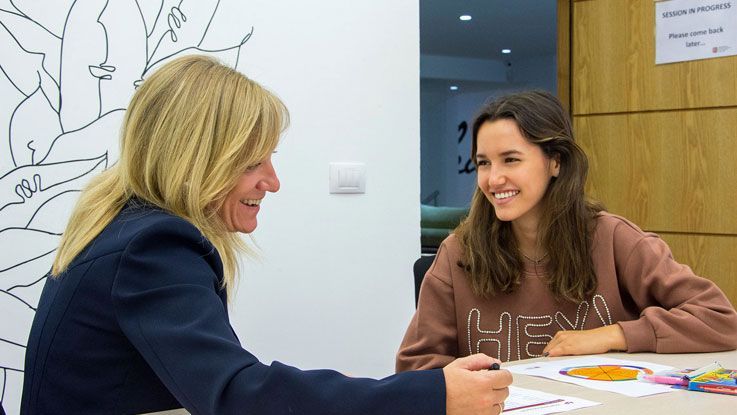 Spain's higher education system is well positioned internationally and highly placed within global education rankings.
The tradition of university education in Spain is well-known for its medieval roots, with one of the oldest universities in the world – the University of Salamanca being founded as far back as 1218.
What's more, it has some of the world's fastest growing modern universities, one of the leading institutes being that of the exclusive Marbella International University Centre.
With Spanish being the second most widely spoken language in the world, thousands of students travel to Spain yearly to study the Latin-based romance language. Classes in international business and European studies are also top choices for international students in Spain.
If you want to get your degree in English, Marbella International University Centre offers a wide variety of degree programs at bachelors and masters levels, with learning materials and classes taught in English.
That said, should you need English language support, MIUC offers pre-sessional English classes at three different proficiency levels to help students reach the required IELTS (International English Language Testing System) score for admission, or enhance their skills.
The degree programs you can study at MIUC are internationally accredited and recognised, which is particularly great for those with international career aspirations, or those who want to continue to study in another country. Students can also capitalise on the exclusive international internship opportunities that the university offers in order to further enhance their employability.
The Most Beautiful Country in Europe
Once again, Spain takes 1st place on the Top 10 Most Beautiful Countries in Europe list by TravelAway. The Spanish landscape will make you feel alive and inspired, with its striking historical monuments and architecture, glittering coastlines, imposing mountain ranges, like the Sierra Nevada, and unique national parks full of rare fauna and flora.
From the vibrant, colourful Barcelona to the regal grandeur of Madrid, sunny, luxurious Marbella to the Moorish opulence of Granada and, of course, the irresistible old-world charm of Spain's many enchanting little villages. Spain overflows with architectural character and natural beauty, brought to life by a captivating history, flavourful cuisine, and a cultural scene that is as much infused with authenticity and depth, as innovation and creativity.
Add to this the spellbinding beaches of Marbella, the surreal volcanic scenery of the Canary Islands, the ruggedly arresting Pyrenees, and Ibiza's rare blend of upmarket hedonism and Mediterranean allure, and you have the most passionate, charismatic and beautiful country in all of Europe!
The Best Climate in the World
Located in Southwestern Europe, Spain is well-known for its balmy Mediterranean climate and is one of the Top 10 Countries with the Best Weather and Climate in the world, according to Huffpost.
What's more, if you search for cities with the best climate in the world, you will find Marbella on Earthnworld's list of the Top 10 Cities with the Best Weather Conditions in the world!
Marbella has a mild subtropical climate, beaming with over 300 days of sunshine a year. Keeping within a perfectly temperate range throughout the seasons, this area boasts one of the warmest winters among all European cities.
With weather like this, locals and tourists alike engage non-stop in the countless thrilling outdoor leisure and sports activities that Spain has to offer. Not to mention the world-famous beaches of Marbella, buzzing with blissful activity all year round.
Some of World's Greatest Art and Culture
Spain has produced some of the world's greatest artists, including Velázquez, Goya, Gaudi, Picasso, Miró and Dali. As such, art lovers will be filled with inspiration and awe wandering the many remarkable galleries and museums that abound.
Moreover,the first modern novel, Don Quixote was written by the Spaniard, Cervantes in 1605.
Accordingly, Spain is home to some of the richest and most varied cultural heritage sites in the world. From Romanesque churches peppering the verdant countryside, to awe-inspiring Roman ruins, to meticulously preserved ancient towns, there are 44 World Heritage Sites to explore in Spain. Visiting these sites is a highly enriching educational experience in itself for those international students who decide to study in Spain.
The Sought-After Spanish Lifestyle
The Spanish love to socialise.
To them, to eat, drink and be merry is to breathe!
Speaking of food, savouring, tasting and sharing – whether it be jamón serrano, gazpacho, paella, gambas ajillo or the local tapas bar specialty – eating together is one of the most essential past-times of daily Spanish life. Going out for tapas and cervezas a few times a week is an integral part of the gastronomic culture in Spain.
Meal times are taken at a leisurely pace later in the day when it's cooler, with lunch being served at 2-3pm and dinner at 9-10pm. To Spaniards, every meal is an opportunity to mingle, laugh, make new friends and enjoy the finer things in life.
It's no wonder Spain's life expectancy is the highest in Europe!
The Spanish love to celebrate.
Renowned for its vibrant, colourful fiestas, every year hundreds of quirky festivals take place in Spain to keep old traditions alive. Held for over 800 years, Romería de Nuesra Señora de le Cabeza is the oldest and grandest of Spanish festivals.
Others famous Spanish festivals include:
Fiesta de los Patios – awarded world heritage status
San Fermin – the running of the bulls
La Tomatina – overripe tomato fights
Las Fallas – ninot (statue) burning
With its robust transport infrastructure, there is also ample opportunity for international students who study abroad in Spain to travel, take day trips to all of its quaint, little villages, experience all that the country has to offer and immerse themselves in the warm, welcoming Spanish culture.