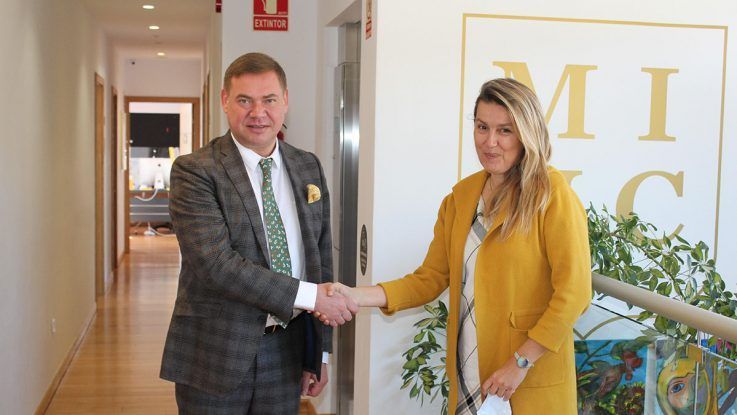 On October 28, 2020, Head of the UNESCO Chair, Secretary-General of the UNA-Russia Dr. Alexey Borisov delivered a lecture to the students of theMarbella International University Centre in Spain (MIUC) and the MIUC and MGIMO double degree programs. The lecture was dedicated to the 75thanniversary of the United Nations. During his lecture, Dr. Alexey Borisov examined in detail the questions related to the activities of the United Nations, highlighted issues of the 17 UN Sustainable Development Goals, and also stressed that cooperation with academia, civil society and business brings a particular value for the United Nations.
Dr. Alexey Borisov spoke of a burning problem that directly affects the implementation of the 2030 Agenda. "The COVID-19 pandemic has led to serious socio-economic consequences in the world. Youth participation is essential in shaping our future. It is young people who play a key role in the fight against the pandemic and in the process of recovery after it," – said the head of the UNESCO Chair at MGIMO-University, Secretary-General of the UNA-Russia. In his speech, Dr. Alexey Borisov stressed that on October 24 the world community celebrated the 75th anniversary of the United Nations. On behalf of the Minister of Foreign Affairs of Russian Federation, Sergey Lavrov, and with the support of the Russian Foreign Ministry, the Permanent Mission of the Russian Federation in Geneva, and the UN Information Center in Moscow, the United Nations Association of Russia held a number of events in honor of the UN anniversary included in the plan of the Russian National Committee to celebrate the 75th anniversary of the UN.
The lecture aroused wide interest from the audience. At the end of the meeting, Dr. Alexey Borisov answered numerous questions from students regarding the current activities of the UN.
The meeting with the executives and students of MIUC was attended by Anna Solod, Chairperson of the MGIMO Alumni Association in Spain, who shared her successful experience in implementing InterEcoForum together with MGIMO and the UNA-Russia for 8 years. The Forum is a space for meeting, generating opportunities, negotiating with international sector leaders, investors and professionals from different countries.