We help you gain an overview of the most relevant topics in International Business. We build your understanding of how multinational companies and their strategies apply to newly acquired knowledge through practical examples and contemporary business cases. Our goal is to provide you with the tools you need to succeed in your career and earn a valuable degree.
Duration: 3 years
Language: English
Degree awarded: BA (Hons) International Business Management
UK Credits: 360
---
We help you learn how to make high-stakes decisions and develop business strategies while sharpening your ability to influence others across cultures, business functions, and hierarchies. Our goal is to provide you with the tools you need to succeed in your career and earn a degree.
We offer a BA (Hons) in International Business Management that draws from modern business concepts and industry professional experience from all over the world. Our team of specialist educators in the fields of business, economics, finance, marketing, communications design, and negotiation provides you with the tools you need to succeed in your career and earn a degree. In addition to our core course team, several visiting industry experts participate in guest lectures throughout the course.

At MIUC, we provide you with the theoretical and practical tools to develop your critical and creative thinking skills and thrive within a globalised economy. Our lecturers use their expertise to teach you relevant theory as well as industry practices, emphasising opportunities offered by a tertiary education rooted in internationalism and practicality.
Our programme has a modular structure covering three years of study in business and its pathways. We offer compulsory modules that provide you with the core knowledge and skills that you need, while elective and language modules allow you to shape your course to suit your interests and career aspirations.

Over the next three years, we will guide you through the study of international business management, international finance, and international marketing. You will also examine various international business contexts situated within emerging markets  and advanced economies. At MIUC, we encourage you to take an active approach to your learning, informing and shaping the direction of your learning journey and future career direction.

For this degree, we will teach you how to:
Formulate and implement a successful business strategy.

 Create business opportunities with scalable, sustainable business models.

Develop HR strategies detailing recruitment, performance management, and workforce development.

Manage intangible assets, such as product, price, placement, and promotion.

Strengthen your negotiation position through diligent preparation, by analysing and quantifying alternatives to the deal.

Engage in process management, supply chain management, and customer relationship management.

Plan and control resources and processes to achieve specific goals as part of temporary endeavours.

Master translating business metrics into business intelligence by managing control mechanisms to implement strategy. 

We are committed to providing you with the tools you need to succeed in your career and earn a degree.
---
If you are looking to study this module with a foundation year please follow this link Click here
This programme has been developed in collaboration with local business organizations spanning the public and private sectors. It is meticulously crafted to assist you in tackling the present complexities and ever-evolving landscape of international business management.
You will blend scholastic learning with pragmatic exposure. Our faculty brings a wealth of practical knowledge, combining decades of business, industry, and academic expertise. They specialize primarily in key business areas, encompassing:
- Human Resource Management (HRM)
- Business Operations
- Accounting and Finance
- Marketing
- Strategic Management
- Business Ethics
- Enterprise
This diverse pool of teaching proficiency will facilitate the honing of your personal skills and your grasp of effectively applying them across various business domains.
We employ a range of instructional techniques, maximizing your learning experience. Lectures introduce novel concepts, models, and theories, while practical sessions ground these theories in real-world application. Your learning journey will involve a blend of:
- Task-based learning to foster problem-solving abilities
- Collaborative work for enhanced communication and knowledge exchange
- Discussions and reflections to stimulate inquiry, application, analysis, and experimentation
- Individual and group tutorials by appointment, supplementing your seminar learning
- Utilization of online platforms
Level 4
Fall Semester

Principles of Management: This module is structured to provide you with a foundational comprehension of organizations, focusing on both conceptual and interpersonal proficiencies. It offers a panoramic view of the managerial challenges that emerge within organizational contexts and introduces you to pertinent concepts and theories aimed at enhancing operational efficacy.
Professional Skills: Within this module, you will acquire the ability to delineate aptitudes in academic writing and presentation, demonstrate adept collaboration within a task-oriented group (teamwork abilities), exhibit adeptness in verbal and written correspondence within the business sphere, and underscore the significance of business decorum alongside the value of regulations and principles within an organization.
Management in Practice: Within this module, you will cultivate expertise and methodologies tailored to the specific demands of your role, enabling you to execute work tasks adeptly. Furthermore, you will enhance your capacity to collaborate effectively both on an individual basis and within a collective context. Moreover, you will be afforded the chance to refine your aptitude for adopting a managerial mindset when contemplating intricate and abstract scenarios.

Spring Semester
Introduction to Business Finance: Within this module, you will acquire the ability to recognise distinct accounting terminology and differentiate between various recipients of financial statements. You will also gain the proficiency to pinpoint and employ accounting concepts and principles. Furthermore, you will be required to categorise non-current and current assets, non-current and current liabilities, as well as capital. Additionally, you will be tasked with generating a straightforward statement of financial position, and exercising the application of accounting concepts to the income statement.
Employability Skills: Within this module, you will cultivate the personal and professional competencies necessary to equip you for the realm of employment, along with comprehending the essence of employability. This will involve introspection into your career trajectory and crafting an engaged LinkedIn profile. The module will be intrinsically connected to other concurrent modules, aiding you in priming for your forthcoming professional journey while grasping the fundamental tenets of business theory.
Analysis of Real World Issues: The objective of this module is to empower you with the capability to undertake a critical assessment of the predicaments confronted by organizations within the intricate contemporary business landscape, both on a domestic and global scale. Additionally, this module will provide you with the means to scrutinize the character, essence, and magnitude of these challenges in a critical manner, while devising an organization that exhibits adaptability and agility in responding to these hurdles.
Level 5
Fall Semester
International Trade
Advanced Presentation and Communication Skills: Within this module, you will have the opportunity to delve into effective communication techniques within a professional context, encompassing verbal and written forms. Additionally, you will cultivate advanced proficiencies in public speaking and delivering presentations.
Business Negotiations in Practice: Within this module, you will be required to analyze the impact of external circumstances and factors specific to the company on the negotiation procedure.
Spring Semester
Organisational Behaviour
Leadership and Teams: During this module, you will be presented with the chance to assess the proficiencies essential for fostering high-performance cohesive teams within the contemporary business milieu. Furthermore, you will delve into the theories and frameworks governing group dynamics, communication, motivation, diversity, and related aspects. Moreover, you will need to contemplate their ramifications for leadership within a team-oriented setting.
Group Business Development Applied Project: Within this module, you will be afforded the chance to collaborate within groups and identify as well as cultivate business projects for an organisation. Additionally, the module also aims to foster comprehension of group dynamics and the art of collaborative teamwork, which involves conflict resolution and concerted efforts toward shared objectives.
Level 6
Fall Semester
Strategic Management: In this module, you will gain the knowledge to elucidate fundamental concepts, principles, and methodologies linked to the process of strategic management. You will also conduct a thorough evaluation of the internal business landscape to ascertain strengths and weaknesses, employing suitable frameworks to guide strategic management choices for a designated organisation. Moreover, you will have the capacity to meticulously assess the external business milieu to pinpoint potential opportunities and threats, and employ appropriate frameworks to steer strategic management judgments for the designated organisation.
Career Strategy and Planning (CSP):  This module offers you the chance to employ proficient career management skills tailored to support you in actively strategizing and readying yourself for your forthcoming professional endeavors.
Business Sustainability and Social Responsibility in Practice: Within this module, you will undertake a meticulous assessment of the factors propelling enterprise and the generation of wealth, while examining their ethical ramifications. Furthermore, you will explore evolving perspectives and stances towards sustainability and corporate social responsibility. Additionally, you will be tasked with a comprehensive appraisal of frameworks that facilitate discourse on ethical matters within the business sphere, alongside the utilization of tools to manage business ethics.
Spring Semester
International Business: Within this module, you will engage in a rigorous analysis of the primary challenges confronted by enterprises involved in the establishment and advancement of their international ventures. These challenges encompass aspects such as economics, politics, finance, marketing, human resource management, and operations management. Additionally, you will delve into how the global economic and political landscape exerts an influence on corporate strategies.
Cross Culture Management
Current Issues Analysis
Opportunities for roles and professions within international business management are widespread, spanning various intriguing domains both in the UK and overseas. These encompass:
Human resource management
Marketing
Business research
Finance
Sales
Sales promotion
Retail management
We process applications continuously as they are submitted under our Rolling Admission policy.
Entry Requirements:
Mature applicants (aged 21+): If you lack the stipulated qualifications but possess pertinent work experience, you are encouraged to apply. Your application will be assessed on an individual basis.
Entry to Level 5 : To enter the second year of this course directly, you should demonstrate suitable knowledge and experience. For instance, you are an excellent candidate if you hold 120 undergraduate credits at Level 4 or a CertHE in a related field.
Entry to Level 6 : To directly access the third year of this course, you must exhibit fitting knowledge and experience. For instance, you are an ideal candidate if you possess 240 undergraduate credits (at Levels 4 and 5), a DipHE, Foundation Degree, or HND in a related field.
High School Certificate All candidates with a completed high school education are eligible to apply. Students who have studied part of a degree at a different University or accredited higher education institution can apply for a credit transfer.
Proof of English Proficiency* of candidates who have not previously studied in an English speaking school or country.The tests and minimum scores we accept are:
- IELTS - 6.5
- TOEFL iBT - 88
- Cambridge Certificate - B2
- MIUC English Test - Pass
Application Supporting Documents:
You will need to provide the following documents with your application:
Copy of Passport or ID
Passport sized digital photograph
High School Certificate (Officially translated to English or Spanish)
High School Grade Transcripts (Officially translated to English or Spanish)
Statement of Purpose (min. 500 words on why you want to study at MIUC, your expectations and aspirations)
Two Letters of Recommendation
Curriculum vitae
Tuition Fees
| | | | |
| --- | --- | --- | --- |
| Tuition fee includes the following: | | | |
| | Fall Semester: | Spring Semester: | Yearly Fee: |
| Course registrations | | | |
| Study fees and course materials | | | |
| Access to Blackboard Learning Platform | | | |
| Full access to the Library | | | |
| Visa and immigration advice and support | | | |
| 24/7 daily student support | | | |
| Total ammount: | 9.450,00 € | 9.450,00 € | 18.900,00€ |
| | | | |
| In total: | | | 18.900,00 € |
All students are required to register for the courses in the first week of the semester.
Simply not attending classes later during the semester does not release you from the financial or academic obligation for courses in which you have previously enrolled. If you wish to drop one or more of your courses, you must officially drop the course(s) by de-registering at the Student Services.
IT IS THE RESPONSIBILITY OF EACH STUDENT TO BE AWARE OF AND UNDERSTAND UNIVERSITY REGULATIONS AS PUBLISHED.
Fees & Terms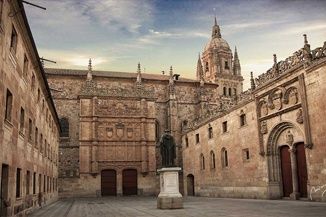 Private international universities are institutions that have the expression international university in their name.