Gain an overview of the most relevant topics in International Business. Build an understanding of how multinational companies and their strategies applying newly acquired knowledge to practical examples and contemporary business cases.
Duration: 4 years
Language: English
Degree awarded: BA (Hons) International Business Management (Extended Degree)
UK Credits: 480
Learn how to make high-stakes decisions and develop business strategies, while sharpening your ability to influence others across cultures, business functions, and hierarchies.
Our BA (Hons) in International Business Management draws from modern business concepts and industry professional experience from all over the world, with specialist educators in the fields of business, economics, finance, marketing, communications design, and negotiation. Apart from the core course team, several visiting industry experts participate in guest lectures throughout the course.
We provide our students with the theoretical and practical tools to develop their critical and creative thinking skills and thrive within a globalised economy. Lecturers use their expertise to teach you relevant theory as well as industry practices, emphasizing opportunities offered by a tertiary education rooted in internationalism and practicality.
The programme has a modular structure covering four years of study in business and its pathways. Compulsory modules provide you with the core knowledge and skills that you need, while elective and language modules allow you to shape your course to suit your interests and career aspirations.
Over the next four years, you will study international business management, international finance, and international marketing. You will also examine various international business contexts situated within emerging markets and advanced economies. As a student in the course, you are encouraged to take an active approach to your learning, informing and shaping the direction of your learning journey and future career direction.
In this programme, you will learn how to:
Formulate and implement a successful business strategy.
Create business opportunities with scalable, sustainable business models.
Develop HR strategies detailing recruitment, performance management and workforce development.
Manage intangible assets, such as: product, price, placement, and promotion.
Strengthen your negotiation position through diligent preparation, by analysing and quantifying alternatives to the deal.
Engage in process management, supply chain management and customer relationship management.
Plan and control resources and processes to achieve specific goals as part of temporary endeavours.
Master translating business metrics into business intelligence, by managing control mechanisms to implement strategy.
Year 1
Law and Society

Economics Foundation

History of Ideas

Introduction to Data Analysis and Exploration

Fundamentals of Business

Narrative, Media and Cultural Stereotypes

Introduction to States and Societies

Introduction to Data Visualization
Year 2
Core Modules
Business Environment

Digital Business

Consumer Behaviour

Managerial Economics

Corporate Finance and Financial Intermediation

Business Operations
Elective Modules
Organisational Behaviour

Introduction to Political Systems

Introduction to Programming

Digital Marketing: New Trends and Innovation
Year 3
Core Modules
Information Systems and Business Analytics

Supply Chain Management

Business Process Modelling

International Business Strategy

Market Research

International Business Law
Elective Modules
Foundations of Web Design and Development

International Law

Web Content Management System

Managing International Teams
Year 4
Core Modules
Business Intelligence and Decision-Making

Executive Sales Management

Artificial Intelligence: Predictive Modelling in Business

International Market Plan

Capstone Project
Elective Modules
International Finance and Accounting

Global Commerce

Gender and Politics

Mobile Application Development
Focus your subject choices within the programme to suit your career aspirations. Your employability is also enhanced through internships and the Capstone Project.
Progression Opportunities:
Upon graduation, students might decide to further their studies. Potential postgraduate degrees could include:
MBA (with appropriate work experience)
MA/MSc International Business
MA/MSc Banking and Finance
Career Opportunities:
Financial Service Advisor
Entrepreneur
Investment Advisor
Domestic or Foreign Sales Representative>
Regional Operation Manager
Project and Strategy Officer
Marketing Assistant
Business Analyst
Market Researcher
Rolling Admission -
We receive and process applications on an ongoing basis as they are sent in.
Entry Requirements:
High School Certificate All candidates with a completed high school education are eligible to apply. Students who have studied part of a degree at a different University or accredited higher education institution can apply for a credit transfer.
Proof of English Proficiency* of candidates who have not previously studied in an English speaking school or country.The tests and minimum scores we accept are:
- IELTS - 6.5
- TOEFL iBT - 88
- Cambridge Certificate - B2
- MIUC English Test - Pass
Application Supporting Documents:
You will need to provide the following documents with your application:
Copy of Passport or ID
Passport sized digital photograph
High School Certificate (Officially translated to English or Spanish)
High School Grade Transcripts (Officially translated to English or Spanish)
Statement of Purpose (min. 500 words on why you want to study at MIUC, your expectations and aspirations)
Two Letters of Recommendation
Curriculum vitae
Tuition Fees
| | | | |
| --- | --- | --- | --- |
| Tuition fee includes the following: | | | |
| | Fall Semester: | Spring Semester: | Yearly Fee: |
| Course registrations | | | |
| Study fees and course materials | | | |
| Access to NEOLMS Learning | | | |
| Full access to the Library | | | |
| Visa and immigration advice and support | | | |
| 24/7 daily student support | | | |
| Total ammount: | 9.450,00 € | 9.450,00 € | 18.900,00€ |
| | | | |
| In total: | | | 18.900,00 € |
All students are required to register for the courses in the first week of the semester.
Simply not attending classes later during the semester does not release you from the financial or academic obligation for courses in which you have previously enrolled. If you wish to drop one or more of your courses, you must officially drop the course(s) by de-registering at the Student Services.
IT IS THE RESPONSIBILITY OF EACH STUDENT TO BE AWARE OF AND UNDERSTAND UNIVERSITY REGULATIONS AS PUBLISHED.
Fees & Terms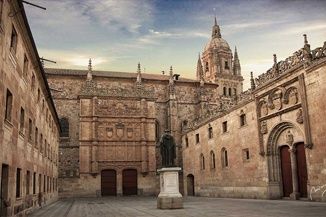 Private international universities are institutions that have the expression international university in their name.