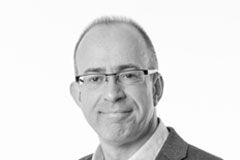 Guest lecturer of MIUC Dr Andy Wynn, MD of TTIP Consulting Ltd, is an international business leader with over 30 years' experience in technology, new business development, innovation, strategy, operations, sales and product management, working all over the world in multi-national advanced materials and industrial engineering businesses. 
International, board level director of industrial engineering and advanced materials based manufacturing businesses. 30 years of customer focused leadership in technology, innovation, business development, general management, operations and project management, including 9 years P&L responsibility, 5 years strategic leadership & 6 years based in China. Commercialised many new products across global markets. Strong international team builder. Launched several new businesses. Turned round struggling businesses.   
He holds a Phd in Chemistry from Warwick University and is fluent in Mandarin  Chinese.